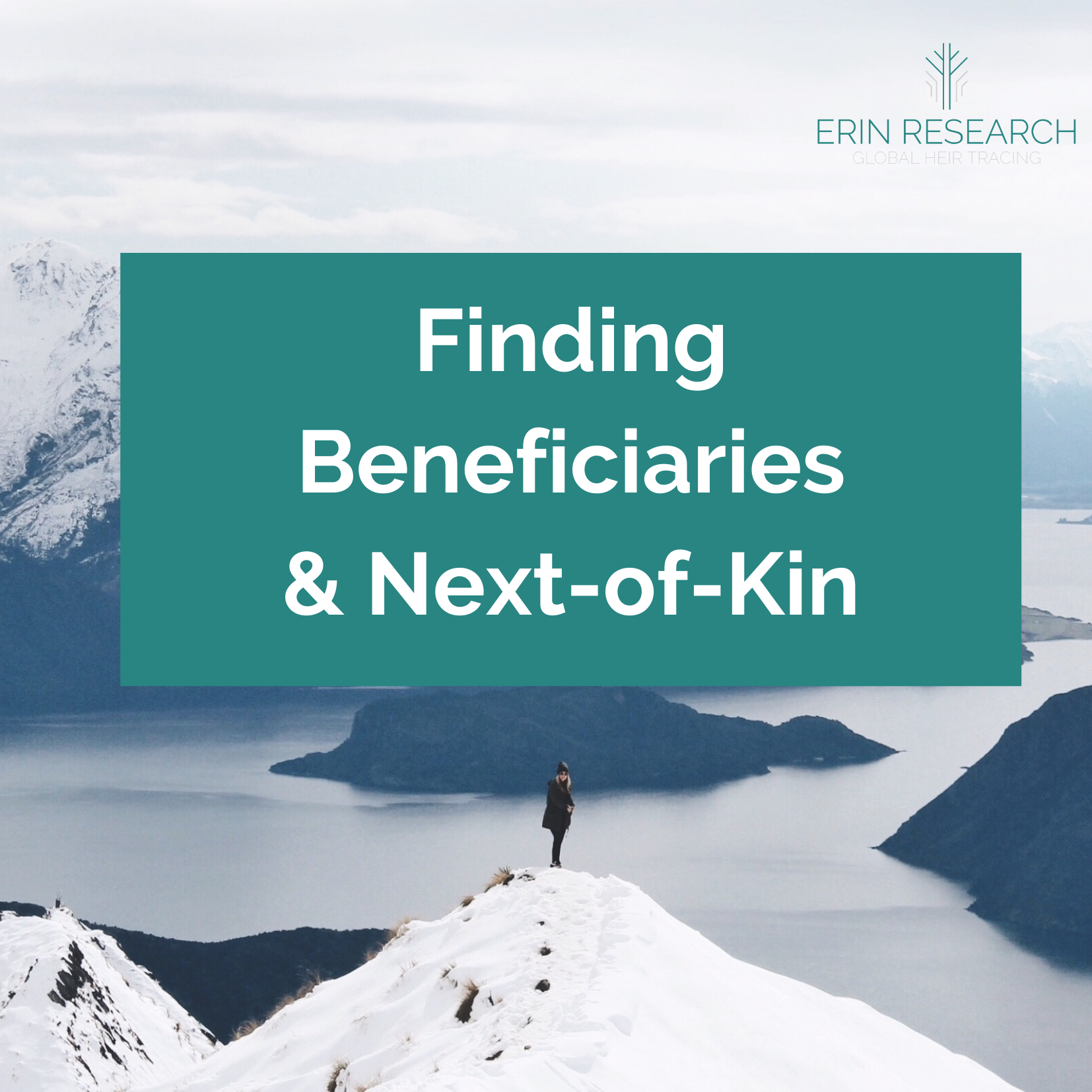 How to locate missing next-of-kin during the probate process
Dealing with a beneficiary who is named on a will but is now missing can be an awkward and time consuming situation for legal practitioners. Similarly, dealing with an intestate case where a family tree may need to be researched and verified to ensure correct distribution of the estate, can be a lengthy process. As the administration of an estate cannot be progressed until all beneficiaries are found, this can lead to long delays in the process for other entitled beneficiaries. In some cases, elderly or infirm legatees may miss out on their inheritance due to delays in administering the estate.
Legal personal representatives of an estate have a legal and moral obligation to ensure that the proceeds of an estate are distributed in a timely manner to ensure the legacy and wishes of the deceased person are upheld. If you are having trouble locating a missing beneficiary, see our guide below for some useful research tips and a checklist to see when you may need to hire a professional heir tracing firm. The key thing is not to leave it too late.
Missing Beneficiaries
Administering an estate where beneficiaries are difficult to find is a common occurrence. A will may have been written decades before and addresses and telephone numbers are out of date. People move around, go to live and work abroad, change their names and fall out of contact with family. Nowadays with data more readily available online, including newspaper archives and electoral registers, there are some checks solicitors and legal practitioners can carry out to attempt to locate a missing beneficiary. Consider:
Checking the electoral register in an area you think the beneficiary may be living
Examine websites that list death notices to check if your beneficiary may now be deceased (in Ireland the most commonly used website is rip.ie, its records begin in 2006)
Google search the beneficiary – use search terms that may help narrow down the search, such as place names, maiden names or sibling / relative names
Check social media – many people have user accounts on platforms such as Facebook or Twitter – it may be possible to contact a beneficiary in this way, particularly if they are living aboard.
Professional Probate Genealogist – How to know when you need help
If a beneficiary is missing, many practitioners will advertise via an advert across newspapers in an attempt to find the person. It can be a hit and miss, costly strategy as you are relying on that person, or somebody else who knows that person, seeing that specific advertisement on a specific day. Others may wait to see if anyone comes forward. Here are some reasons to consider getting in touch with a probate genealogy firm when dealing with a difficult case:
You have exhausted all natural enquiry routes and are unable to move the case any further
The other beneficiaries are pushing for the estate to be administered or you are concerned that the other beneficiaries may miss out on their due inheritance
You have some information but not all – you may require a certificate or paperwork to prove a death, marriage or relationship
You may not need to locate a beneficiary but do need to prove their relationship or status to your entitled beneficiaries
Other reasons why you may need to speak with a probate genealogy firm include:
Ward of court cases – locating family or next-of-kin for a person who has been taken into care, is elderly, infirm or not of sound mind
Vacant homes – you may be looking to progress a house sale where the owner is missing or unknown
Verifying family trees – it is a good idea to verify a family tree if there is any doubt over succession. Occasionally biological children can come forward after a death or a family may be complicated by additional marriages and step children. Erin Research can advise on complicated succession matters.
What happens when I contact a probate genealogy firm?
After taking details of the case, Erin Research will return with a quote to research the case within 24 hours. There are many options available depending on the case involved and what your clients may require. Budget and fixed fee options allow for the costs to be agreed upfront, whereas contingency and estate agreement are more suited to intestate cases or cases where there is no administrator in place. Once a quote has been agreed, Erin Research will begin on the case with our probate genealogy researchers. We also work with researchers overseas in cases where beneficiaries are thought to be abroad.
Questions you may have about tracing missing beneficiaries
In our consultations we are often asked as to the fee structure of the case. It's important to know that no fees are taken until the case is solved or brought to a conclusion so work can begin right away once a research contract has been agreed. Fees generally come from the estate itself, or depending on the agreement, from the missing beneficiary share only. Due to the nature of the cases, we can never give an exact timeline of how long it will take to trace a beneficiary, but in our experience, it can take as little as few days up to around six months. We strive to conclude all cases as quickly as possible. In cases where a beneficiary cannot be found, despite our own expert efforts, we offer advice as to the next steps you can take so as to be able to administer the estate. Our research report is provided as evidence in taking out missing beneficiary insurance, meaning that you'll have peace of mind, knowing a case will be brought to conclusion, no matter what.
If you have any questions, queries or would like to discuss a missing beneificary case with us visit www.erinresearch.ie, call 041 213 3000 or email [email protected]. We are always happy to talk and offer advice as to what may be the next steps in adminsitering a difficult estate case.